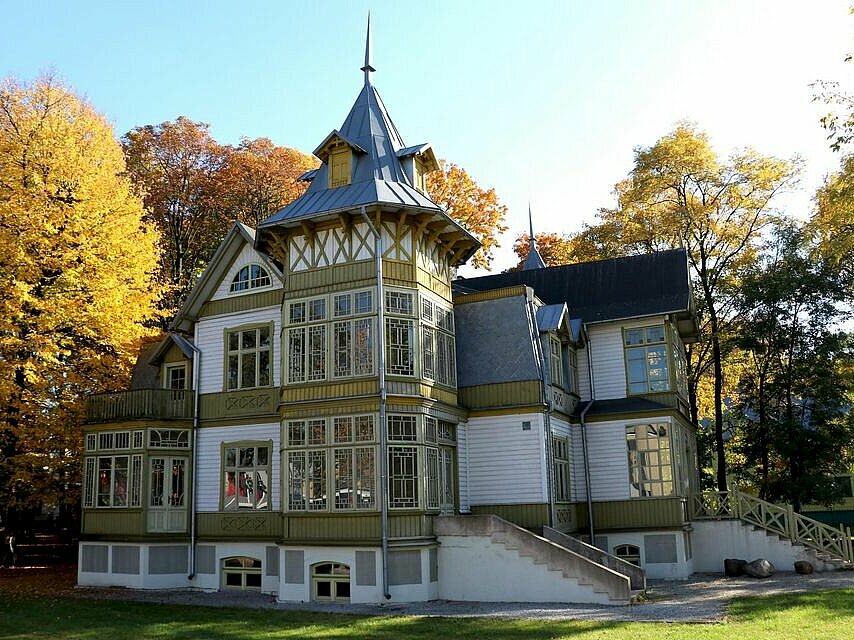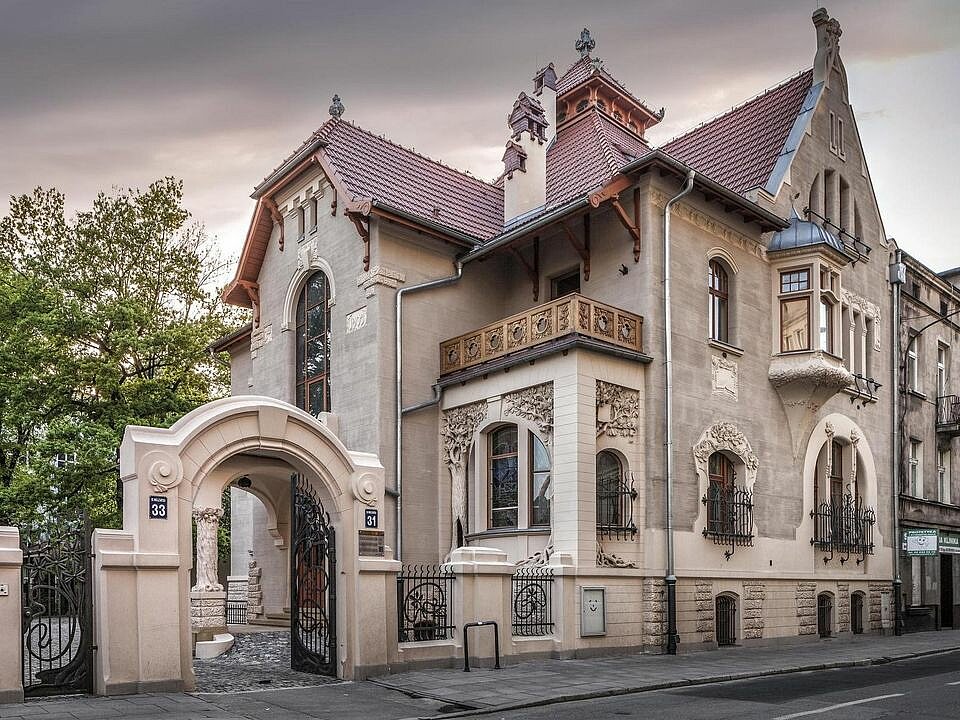 There are almost 200 historic villas and palaces in Łódź. Their state of perservation, original and contemporary function or building materials are different, but they also share many common features. All villas and palaces of Łódź were built in the second half of 19th century or at the beginning of 20th century. All of them belonged to the richest citizens and were showcase of their wealth.
Villas, palaces and residences - is there any difference?
Let's answer this question right away. Is there any difference between a palace and a villa? To put it simply: the palace is more impressive and representative, while the villa is a more intimate building, in which the emphasis was placed on privacy. The boundary between these definition is blurred and you can often find an example of a building that will be difficult to clearly define whether it is a palace or a villa. Residence is an even broader concept and includes both types of building.
Anyway if you want to see excellent examples of historic residential buildings you should visit Łódź. Here you will find big-city factory palaces, delightful villas, wooden summer villas, huge palaces integrated into city frontages, but also more modest, suburban villas. Some of them today function as museums and art galleries, some are used by local government institutions: offices or libraries, others are privately owned. There are also those (but fortunately there are fewer and fewer of them) that are decaying because are not used.
Palaces and villas you must visit while in Łódź
The most famous and outstanding example of a factory owner's palace in the city is Palace of Izrael Poznanski, today's Museum of Łódź. The palace, due to its size and decorations is called "the Louvre of Łódź". The residence was built in the 1880s and 1890s, but it reached its final shape in 1903, i.e. after the death of the owner - the richest Jewish industrialist in Łódź, Izrael Poznański. The building combines the best features of the most popular architectural styles of the time: Neo-Renaissance, Neo-Baroque and early Art Nouveau.
Relatively modest from the outside, Karol Scheibler's Palace impresses with richly decorated interiors. The former residence of the richest industrialist in Łódź now houses Film Museum. Scheibler's Palace is one of the earliest palaces built in industrial Łódź. It was built in the 1850s and 1860s in the Neo-Renaissance style.
More examples of outstanding architecture in Łódź are associated with the Poznański and Scheibler families. At Gdańska Street we can find two palaces belonging to the sons of Izrael Poznański. Maurycy's palace today houses a branch of the Museum of Art, while Karol's palace is the Academy of Music. In turn, in the former villa of Edward Herbst (he was Scheibler's son-in-law) there is a museum presenting the original palace interiors and an art collection in the building of former carriage house.
For enthusiasts - less known examples of palaces and villas
All of the above are "Łódź must-see". If you have more time and want to see and learn more, we also have suggestions for you. As mentioned at the beginning, there are almost 200 palaces and villas in Łódź. In particular we recommend to visit:
The pearl of Art Nouveau - the villa of Leopold Kindermann with art gallery inside (31 Wólczańska St.).
a rare example of decor with the forms of German Renaissance and Dutch Mannerism - the villa of Otto Gehlig (17 Tuwima St.).
The palace of the banker Maximilian Goldfeder at 77 Piotrkowska St. that today houses restaurants and local tourist organization.
A small, detached palace of Robert Schweikert at 262 Piotrkowska St. - an example of the palace with features of modernism - today European Institute.
Steinert Brothers Palace at 272 Piotrkowska St. - the building was intended for two families. Hence its symmetrical façade and two gates.
Alfred Biedermann's modernist palace surrounded by a park (1/5 Franciszkańska St.) - currently owned by the University of Łódź.
The palace of the "King of wool", Juliusz Heinzel - currently the seat of the City Hall (104 Piotrkowska St.). From the windows of the building, the bugle call (Prząśniczka) is played every day.
Examples of wooden summer villas: moved to the Łódź City Culture Park and renovated summer villa that delights with the richness of architectural details.
And many, many more…